Run 3D Biomechanical Analysis

We can help you run pain free!
Check out our video to find out how…
A running injury is complicated, caused by a combination of underlying problems unique to you. Successfully treating a running injury is equally complex. It requires identifying what caused it in the first place and, as constant accounts of re-occurring problems and failed treatments testify, this isn't easy.
Most clinics don't have the advanced equipment that is needed to treat a running injury with the meticulous and rigorous approach it requires. We are extremely proud to be able to say 'we do!'

Run3D was developed by scientists at the University of Oxford. Using state-of-the-art technology and scientifically-grounded protocols, we will treat you and your injury with the attention to detail that is required for a successful return to running.
How do we do it?
State-of-the-art infrared cameras precisely measure the 3D positions of reflective markers attached to your legs. The markers are used to create an exact computer model of you walking or running, and the personalised model is used to accurately calculate your joint motion in 3D. Your joint angles are compared to an extensive database of uninjured controls, in order to identify unusual patterns in your walking or running gait. This information is cross referenced with the results of a full musculoskeletal assessment conducted by our expert clinicians to identify the root-cause of any injury or pain, and to recommend data-driven rehabilitation and treatment.
We can help you run faster and more efficiently
The principal of marginal gains is based on making small incremental improvements, which result in significant advances when they are added together.
Run3D clinics have the advanced technology that is required to critically evaluate all aspects of your running gait and musculoskeletal function with the same precision and rigour that is usually reserved for the sporting elite. Once we understand the small inefficiencies in your running, we can help you implement strategies that will make you faster.
How long does it take?
Your full assessment will take between 90 minutes and 2 hours. You will be given immediate feedback on the day which will also be emailed to you. We will then arrange a follow up appointment to discuss your results in more in-depth detail and make an action plan.
Once we have identified your biomechanical issues, we can deliver data-driven advice for addressing them and improving performance. This may include:
Gait re-training using real-time Run 3D feedback
Sports Physiotherapy and rehabilitation
Advice on appropriate running trainers and orthotics
Advice on modification of your training program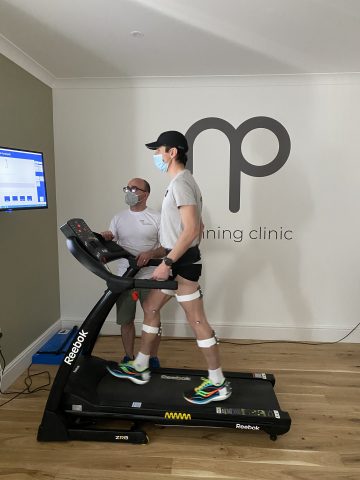 Get in touch by phone or email for further information or simply book online.